PRODUCT
PORTFOLIO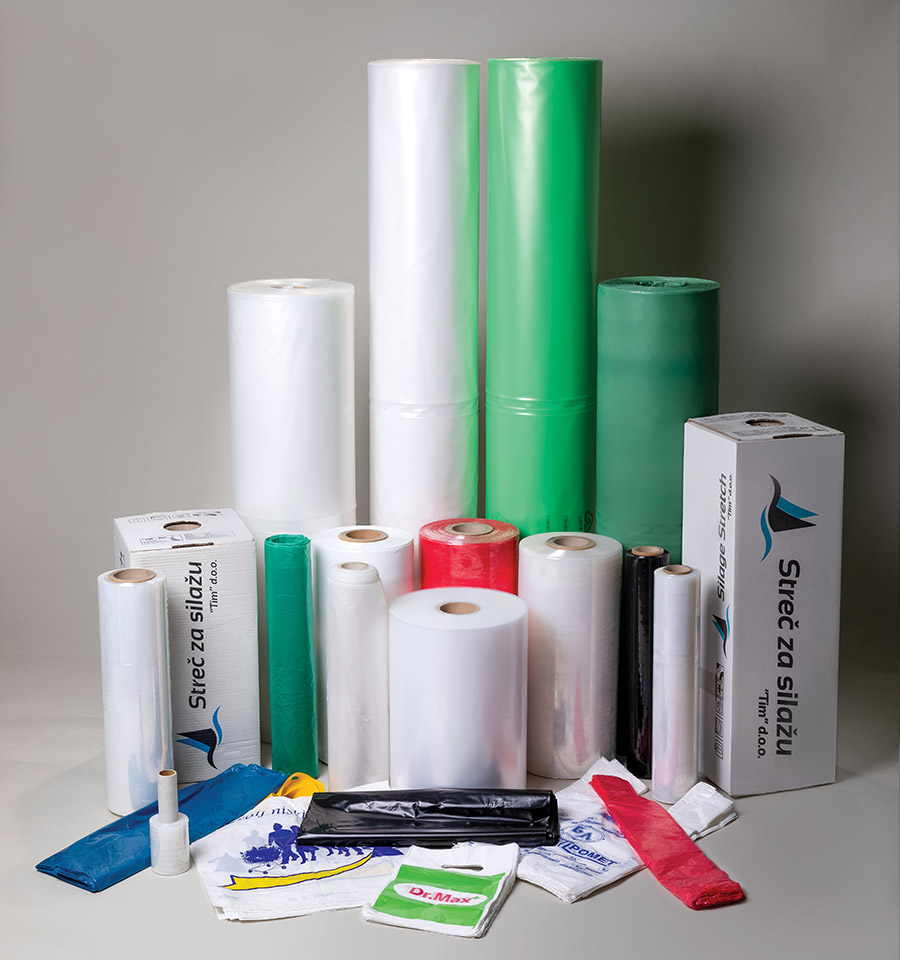 One of our main goals is to provide the market with the highest quality products. As a leading company in the production of polyethylene packaging, we strive to provide all the resources that will allow us to expand the production portfolio from year to year.
We can split our product porfolio into 4 groups:
PACKAGING
FILMS
Shrink Film
Shrink film is an industrial product made of polyethylene raw material and produced in different sizes and thickness according to usage purpose. It is applied in wide range of industrial areas such as water and liquid packaging, food packaging, electronic and ceramic materials packaging.
Shrink Hood
Shrink hood film is produced in rolls and bags to wrap pallets while protecting them from dirt and sun with UV stabilization included.
Packaging bags
In different sizes and applications: T-shirt bags, T-shirt bags on roll, boutique bags, garbage bags, bags for pellet.
Strech film
Is a highly stretchable plastic film that is wrapped around items. The elastic recovery keeps the items tightly bound. It is frequently used to unitize pallet loads but also may be used for bundling smaller items. Types of stretch film include jumbo stretch film, hand stretch film, extended core stretch film – pre stretch film and machine stretch film."
Protective films
They are mostly made as part of multi-layer films, for example in laminated foils.
---
INDUSTRIAL
GROUP
Construction Film
Construction film is used to protect and storage construction materials and equipment indoor and outdoor area.
FFS film
Polyethylene films for automatic packaging – FFS (Form-Fill-Seal) are used in the production of granular and powdery products.
---
AGRICULURAL
GROUP
Multifunctional agricultral films
are very important for agricultural industry. It is made in different dimensions and sizes: 4m, 6m, 8m, with or without UV stabilizer. Agricultural films are an effective solution to protect crops from weather conditions and pests, reduce thermal shock between day and night and ensure effective watering.
Silage Stretch
is produced to protect silage and to keep it fresh.
Mulch Film
are used to cover specially prepared soil. The role of the mulch film is to prevent development of weeds, soil drying, water evaporation and to protect soil temperature as well.
Greenhouses and tunnel films
Consumers' need for fresh food all year long, push producers to enable conditions for fruits and vegetables production, that is mostly possible in greenhouses. We produce low and high greenhouses and tunnel films.
Greenhouses and tunnel films provide following benefits:
resist exposure to UV
resist fogging due to condensation of interior moisture
resist environmental contaminants (acid rain, particulate)
tough enough to withstand abuse
allow the transmission of light
---
SPECIAL USAGE
FILMS
In accordance with market needs, we are able to produce different kind of special usage polyethylene films like:
films for bed underpads
films for printing and laminations